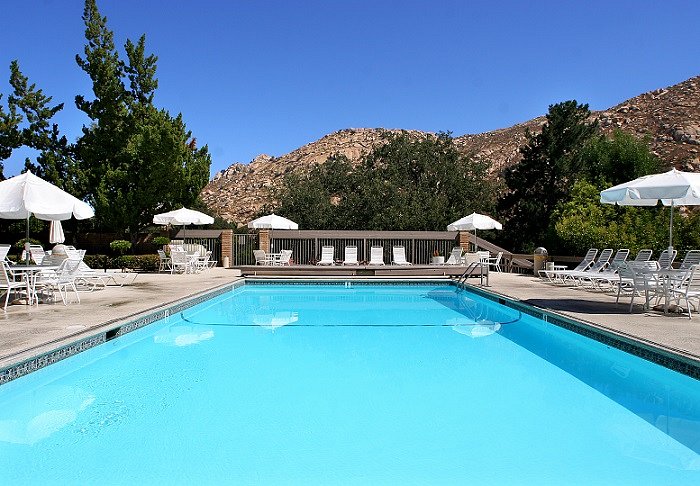 Welcome to San Diego Country Estates, Ramona, CA
Discover a Quiet Retreat in the foothills of the Cuyamaca Mountains.
Less than an hour's drive from San Diego and only two-and-a-half hours' drive from Los Angeles. At the resort, guests will enjoy 16 tennis courts, a swimming pool and spa, and a wide selection of planned activities.
ACCOMMODATIONS FEATURE:
• Air Conditioning • Alarm Clock/Clock Radio •  Ceiling Fan • Coffee Maker • Cooking Facilities • DVD  • Hair Dryer • Iron & Ironing Board • Microwave • Satellite/Cable TV • Wi-Fi In Room • Full Kitchen • Fire Place • Washer & Dryer
RESORT AMENITIES INCLUDE:
• Exercise Equipment • Golf* • Hiking* • Horseback Riding • Hot Tub • Laundry Facilities • Massage Services* • Miniature Golf* • Mountain Biking* • Playground • Restaurant* • Shopping* • Full Day Spa • Swimming Pool • Tennis
*Located off-site
AREA EXPERIENCES INCLUDE:
• Historic Downtown Ramona • Ramona Valley Wine Tasting • Casinos • San Diego Zoo • Sea World • Hiking • Cycling •